Our Year 5 and Year 6 'Backstage Crew' interviewed some of our Matilda the Musical cast to find out more about their roles…
An Interview with Bruce Bogtrotter (Jack Y6) By Georgia (Y5)
This term, all Year 5 and 6 –and some Year 4s- are having an amazing opportunity to recreate Matilda the Musical as our own. We are one of fifty specially chosen schools in the country. Our Matilda performance will be showcased at St Benedict's Primary School on the 4th and 5th of December. We were so honoured to interview Jack, who's in Year 6. You may know him as Bruce Bogtrotter! We asked him some questions.
How does it feel to eat the giant cake?
I felt over the moon in excitement because they could have chosen anybody but they chose me.
What scene is your favourite and why?
I would have to say scene 14 because I get to sing a solo in 'Revolting Children'.
Why do you enjoy being Bruce?
I like to perform at home so I thought I could give it a shot.
An Interview with Matilda (Charlotte G Y6) By James (Y5) and Lewis G (Y6)
In December 2018, on the 4th and the 5th, we will be performing our very own Matilda the Musical. We were chosen as one of 50 lucky schools in the UK to go and watch Matilda and produce our own performance. So Years 4,5 and 6 are practising and rehearsing to create Matilda the Musical. We have interviewed one of our Matildas.
What is it like to be the main character?
I think it's fun and I enjoy it but it's a lot of work learning all the words and all the songs and dances.
Why did you choose to audition for Matilda?
I am confident I am good enough for the role, loud enough and I am like Matilda at home.
How much have you had to practise your part at home?
I have to practise every day for about 2 hours and 30 minutes and I have to practise every weekend.
What is it like to have to remember all your lines?
It's hard because I have a lot of lines but it's fun.
An Interview with Miss Honey (Georgia Y5) By Jake (Y5) and Lucy (Y6)
This Autumn Term, some of the classes, which are Years 5, 6 and some of Year 4, are preparing to do a marvellous production of Matilda the Musical. We were one of the luckiest schools to be chosen along with 4 other schools in the North West to go and watch the dress rehearsal of Matilda the Musical. Today we interviewed Miss Honey (who is Georgia in Y5) and she gave us some useful information that answered some of our amazing questions:
What is it like to be Miss Honey and why?
I sometimes feel embarrassed –which makes me nervous- but most of the time I'm happy.
How does it make you feel to be a kind character?
It makes me feel really happy (that makes me feel relieved!)
Tell me about some of the scenes you are playing in?
I think some scenes are hard to do but other are really easy.
Do you think being a teacher is a good character and why?
I like playing the teacher because you get to teach the children so they can achieve the jobs that they want.
An Interview with Mrs Phelps (Nevaeh Y6) By Rahim (Y6) and Lewis H (Y5).
Today we interviewed Nevaeh (Mrs Phelps) and we asked her five questions which she answered in detail. Our questions were:
How does being an actor make you feel?
It makes me feel happy but at the same time it makes me feel stressed because it involves lots of work.
Tell me about your favourite song.
My favourite song would be 'When I Grow Up' because it's very inspiring.
Why did you audition for Mrs Phelps?
Well I didn't actually audition, I was picked and I grew into the character of Mrs Phelps.
What is it like?
It's like being in an acting world which is fun.
What do you think about the character you are acting as?
I think she's very kind and helpful.
Who is your favourite character and why?
My favourite character is Mr Wormwood; he's funny but also mean.
An Interview with Mrs Wormwood (Lucy Y6) By Nevaeh (Y6) and Charlie (Y5)
This term Years, 4, 5 and 6 will be performing – in early December – Matilda the Musical. We were one of the lucky schools to be chosen (50 were chosen in the UK) by the RSC to become a Matilda Champion School. We interviewed Lucy from Y6, Mrs Wormwood in the musical. We asked her 4 interesting questions; she gave us 4 incredible answers.
Here are the questions we gave her and the answers she gave us:
What is it like to play Mrs Wormwood?
Mrs Wormwood is an amazing character and is extremely cocky.
Are you happy to be Mrs Wormwood and why?
Yes, I'm happy to be Mrs Wormwood because she is a funny and an enjoyable character to play.
How does being Mrs Wormwood make you feel and why does it make you feel that way?
It makes me feel good to be Mrs Wormwood because she has funny scenes.
Did you audition for Mrs Wormwood and did you want to be her?
I originally auditioned for Miss Trunchbull but I am glad to be Mrs Wormwood.
Matilda the Musical Champion School
You may already be aware that before the summer holidays, we applied to take part in a project known as 'Matilda the Musical, Champion Schools.' Only five schools out of hundreds in Greater Manchester were chosen to be part of the project and we are pleased to announce that St. Benedict's is one of them! We were up against a lot of competition and so this is a real testament to our school and our children, and we are proud to be part of this amazing opportunity.
The project is a two-year commitment which will involve Years 4, 5 and 6. In the first year, we will be working with the RSC (Royal Shakespeare Company) and Manchester Palace Theatre and Opera House, as well as the Creative Learning Manchester team, to produce our very own Matilda the Musical. Since September, Years 5 and 6 have been working on a programme of work inspired by Matilda the Musical and have centered their English curriculum around the story.
We participated in two INSET days at the Palace Theatre, receiving in-depth training from RSC professionals for the project. These experts in dance, music and drama then visited our school this term to work with the children. They will be returning again on the 12th and 13th of November for our final 'Matilda Take Over Days'.
We are sure you will agree that this is an amazing opportunity, and we are really pleased and excited that our school has been given the opportunity to be part of it. Well done to all children for their hard work and dedication so far this term. Keep up the fantastic work!
Follow our Twitter page (@HStBenedicts) for updates on the project and details about our upcoming performances.
Thank you in advance for your continued support and we look forward to sharing our performance with you all in December.
Miss Dewhurst (Deputy Head of School/Year Teacher), Mrs Frodsham (Year 6 Teacher) and Miss Ainscough (Year 5 Teacher)
Non-Uniform day – Defibrillator for us
We are looking to hold a number of fundraising events to help us generate the funds for a Defibrillator, the first non-uniform day will be on Friday 16th February and the children can come dressed in RED (no football kits) a minimum donation of £1 would be greatly appreciated and we really hope that we can count on your support. If you have any business links or ideas to help us, we'd love to hear from you.
After our harvest festival, some of the school council went to The Brick Project (Food Bank) to donate one of the hampers. The Brick staff explained to us how they sort their food donations and how we should help them at Christmas. They told us what products they were running low on (e.g. nappies and baby milk) and what they don't want, which is fresh food. We felt so lucky for what we have and our families we also felt extremely sorry for those who very sadly aren't as fortunate as us. This experience has encouraged us to do more for The Brick.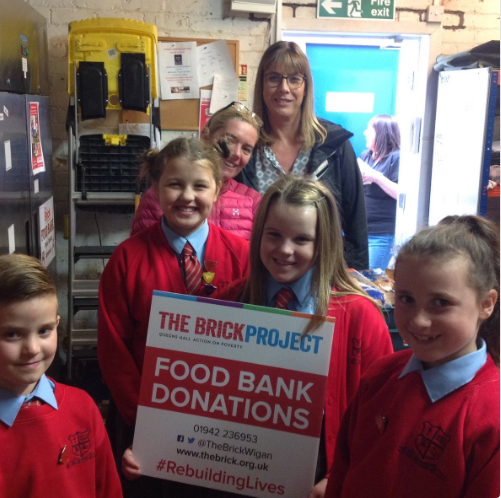 On Wednesday 29th November 2017, a group of children from Y6 (Cerys, Jack , Harry and Georgia) set off to St Edmund Arrowsmith to compete in a Maths Activity Day. It started off with a 45 minute round where you had to answer 20 questions and give it to a marker that would mark your work. Then came the logic round … where you had to memorise different teams and put them in order. It was nearly over and everyone was shattered because they did so much work. Overall, we finished 5th with 416 points so it was a pretty good day.